Have something to sell?  A service to provide?  How about a cause to promote? 
Here's what email marketing campaigns can do for you
Our core slate of email marketing features gives you everything you need to make your emails ultra professional and effective
Craft world class emails with dozens of professional, stunning email newsletter templates
What's a campaign without a great list? Our email list management tools are flexible, practical and easy to zip around in
Your email campaign should rock, plain and simple. We've got the stuff to make it happen
Take the pulse of your customer base with fully customizable online surveys
Deliver Bulk emails and track reports
We've got email delivery down to a science. This means a bigger audience and a straight shot to the inbox
With award-winning email tracking and reporting, there's no second guessing on what worked and what didn't
Sending out emails on a huge scale? Build a fantastic email marketing rep with our Dedicated Server Program
Our email coaching and support center brims with helpful articles, strategic advice and more
Keep your emails online for all time with our campaign archive feature
Email marketing is still a very effective way to communicate if used properly.
Although many companies still use Email to communicate today, we have phased out our own Email services and now encourage businesses to look at Mobile Marketing instead. Mobile is booming and has become the newest and proven marketing method showing a much greater ROI, so you better start transitioning your marketing campaigns over to mobile now.
For those that still want to use email to reach your customer base, we suggest you use one of the recommended providers here: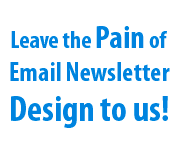 Here's a few email marketing tips in the meantime…