What is REPUTATION MANAGEMENT? What does REPUTATION MANAGEMENT mean?
The definition of REPUTATION MANAGEMENT and explanation.
Source: Wikipedia.org article, adapted under https://creativecommons.org/licenses/by-sa/3.0/ license.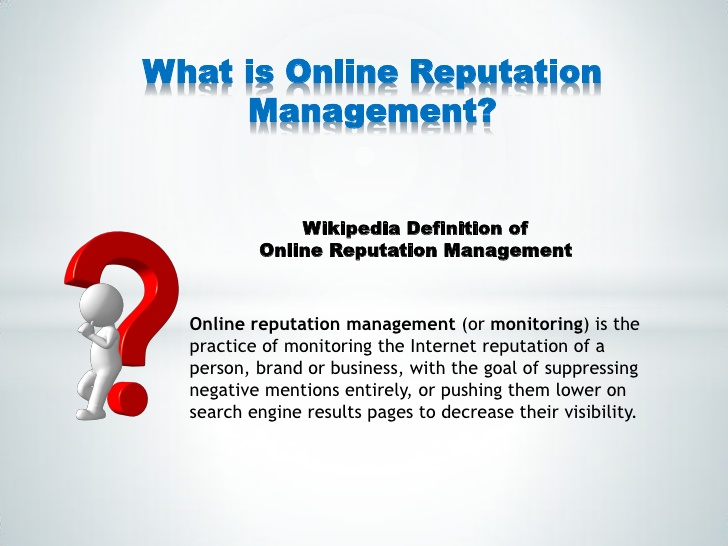 Reputation management refers to influencing and controlling an individual's or business's reputation. Originally a public relations term, the expansion of the internet and social media, along with reputation management companies, have made it primarily an issue of search results. Online reputation management, sometimes abbreviated as ORM, is primarily concerned with managing the results on websites that evaluate products and services and make recommendations and referrals. Ethical grey areas include mug shot removal sites, astroturfing review sites, censoring negative complaints or using search engine optimization tactics to influence results.
The concept was initially intended to broaden public relations outside of media relations. Academic studies have identified it as a driving force behind Fortune 500 corporate public relations since the beginning of the 21st century. As the Internet and social media became more popular, the meaning has shifted to focus on electronic communities, such as review sites, social media and—most prominently—the top search results on a brand or individual.

In 2011, controversy around the Taco Bell chain of restaurants arose when public accusations were made that their "seasoned beef" product was only made up of 35% real beef. A class action lawsuit was filed by law firm Beasley Allen on January 21, 2011, based around these allegations.
The suit was voluntarily withdrawn, with no verdict reached, settlement made or money exchanged, and with Beasley Allen citing that "From the inception of this case, we stated that if Taco Bell would make certain changes regarding disclosure and marketing of its 'seasoned beef' product, the case could be dismissed."
Taco Bell responded to the case being withdrawn by launching a reputation management campaign titled "Would it kill you to say you're sorry?" that ran advertisements in various news outlets in print and online, which was focused on drawing attention to the voluntary withdrawal of the case.
Some businesses have adopted unethical means to falsely improve their reputations. In 2007, a study by the University of California Berkeley found that some sellers were undertaking reputation management on eBay by selling products at a discount in exchange for positive feedback to game the system.
Reputation management (sometimes referred to as rep management, online reputation management or ORM) is the practice of attempting to shape public perception of a person or organization by influencing online information about that entity.
Specifically, reputation management aims on monitoring the reputation of an individual or a brand on the internet, addressing content which is potentially damaging to it, and using customer feedback solutions to get feedback or early warning signals to reputation problems. Most of reputation management is focused on pushing down negative search results.
Under business circumstances, reputation management may attempt to bridge the gap between how a company perceives itself and how others view it.
We have a Reputation Management service that monitors your brand online, and increases your reviews for optimum positive authority and ranking in the local search results.
Contact us now to get started.
You concentrate on your business and we'll take care of your reputation!