Customer Retention Tips
Want to know how to keep your customers attention and keep them happy?
The success of your customer retention strategies will depend heavily upon three key factors, which are essentially the pillars of stellar customer retention.
These include your ability to:
• Make (and keep) customers happy
• Reduce customer effort
• Delivery quality customer service; first time, every time
✓ Step #1: Recognize customers as nothing short of valuable assets
✓ Step #2: Build a relationship that's larger than your business
✓ Step #3: Stay in touch constantly
✓ Step #4: Talk to the ones that got away
✓ Step #5: Talk to the ones that chose to stay
✓ Step #6: Invest in key areas that make customers' lives easy
✓ Step #7: Remember to reward loyalty
Harvard Business Review reveals that a five-percent increase in customer retention translates to anywhere between a 25 and 95 percent increase in profits.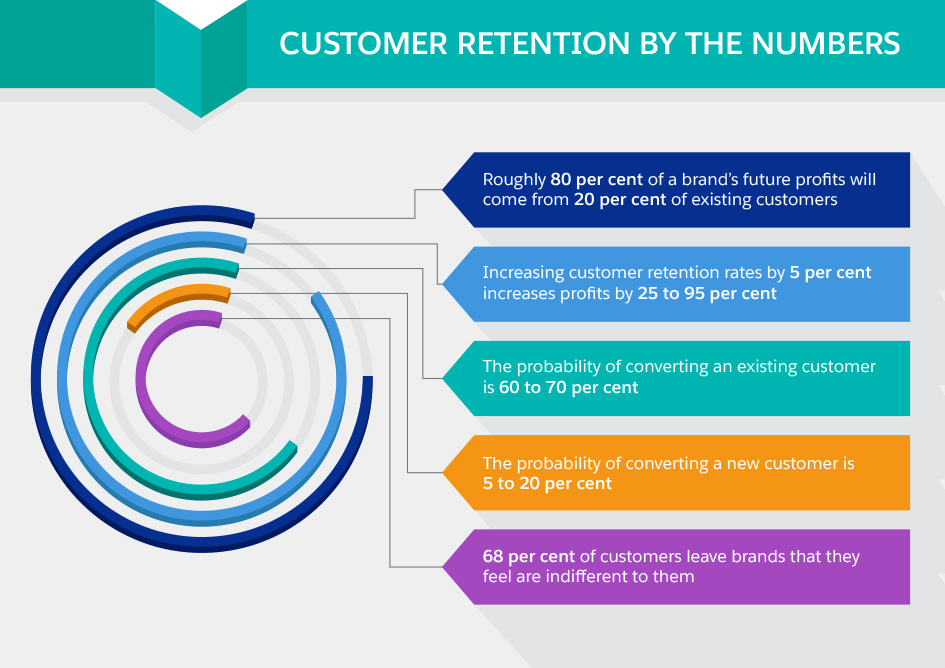 Retained customers (loyal customers) are more profitable
They have a higher lifetime value.
It's a known fact that customers you have retained successfully over the years will:
• Visit your website more
• Visit your store more
• Spend more than the average customer
• Stay with you during adverse times
A two percent increase in customer retention will roughly have the same effect as a 10 percent reduction in selling price. Source: "Leading on the Edge of Chaos", Emmet Murphy & Mark Murphy.
Retaining customers lowers your total customer acquisition costs and is in fact, six to seven times cheaper than acquiring a new customer. Source: Bain & Company
Your chances of selling to an existing customer is anywhere between 60 and 70 percent, whereas that of selling to a newly-acquired customer is typically between five and 20 percent. Source: Marketing Metrics.
Member Retention
Much like customer retention, membership retention stands upon three pillars:
• Making and keeping members happy
• Reducing their efforts
• Delivering quality service to them time and again
Understand the reasons why people (may) abandon your membership site.
Start thinking retention from the get go.
Focus on making networking easy for members. Keep meaningful activities flowing.
Be proactive about membership renewals. Reward loyalty. Compare with and stay abreast of your competition.
List Retention
Email marketing is one of the oldest channels of digital marketing. It is also one of the most profitable
According to the Email Marketing Industry Census (2014) published by EConsultancy in association with Adestra, email marketing revenue witnessed a 28 percent hike in the 12 months from March 2013 to March 2014.
68 percent of the participating organizations of the E-Consultancy study rated email as 'excellent' or 'good' in terms of marketing return-on investment.
Quit selling all the time
Quit sending all the time
Offer personalized content
Display a permission reminder and unsubscribe link in all mails
Target members who seem to be falling out of love
To summarize, pay more attention to your customers in your marketing efforts and they will likely stick around and become a more loyal customer, while your retention rate will gradually improve over time.
You should also read the SEM Rush article on the 10 unique ways to improve your customer retention rate. This is recommended reading and they always provide excellent tips for business marketing.